The talented Bettina Restrepo has graced us with a Video Interview.
Isn't she a great speaker?? I don't have that kind of talent. Thank you Bettina for sharing these answers about Illegal with us!
Bettina is a sponsor of Birthday Phenomenon. She is sponsoring...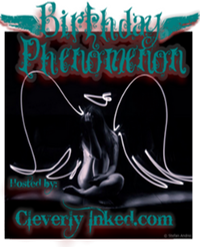 Bettina Restrepo
Moose and Magpie- 1 Copy
Prize Purse
Bookmarks
I also want to let you all know Bettina is having a HUGE contest herself.
Attention Photographers! Attention Readers!
The
Illegal Photo Contest
invites readers 13-18 to submit photo(s) that represent their reaction to the book
Illegal
by Bettina Restrepo (HarperCollins) to win a chance at
monthly prizes
and the
Grand Prize of a Nook e-reader
.
A readers' pictures should show how the novel,
Illegal
was a 'window' into the character, Nora's life or a 'mirror' of your own. The picture can represent something new to the reader (a window) or something the reader recognizes (a mirror) like family, friendship, struggle, or community.*
The contest will be open from April 1 – November 11, 2011 with a grand prize
winner announced on December 1, 2011. Monthly winners will be announced the
first on the month from June-November, 2011 and be allowed to pick from a
group of prizes.
Click here to go to Bettina's site to learn more.
Leave a comment and Gain an Extra Entry into Birthday Phenomenon.