Today we welcome Christine Brodien-Jones. She is participating in this years Birthday Phenomenon, she also joined in last year. I read The Owl Keeper last year and loved it! Without further ado...



Getting boys to read is a hot topic right now. I personally feel The Owl Keeper is a great book to get boys hooked on reading. If you could write one sentence about The Owl Keeper to appeal to boys what would it be?




"Max Unger, the 12-year-old hero of The Owl Keeper, is an outsider of a boy who befriends a wounded owl and discovers that, to fight the powers of the dark, he must go on an impossible quest into an icebound forest, pursued by dangerous creatures, to fulfill an ancient prophecy."





Since you have written a Dystopian, Do you read them?



Oh yes! I've always been intrigued by the idea of a future in which things go terribly wrong. Ever since reading George Orwell's 1984, Aldous Huxley's Brave New World, and Ray Bradbury's Farenheit 451, I've found dystopian novels endlessly fascinating.

The boom in dystopian fiction for teens and middle grade readers has been phenomenal and much speculating has taken place over why the future-as-nightmare novel is so hugely popular. If there's one thread running through these books, it's the message of hope, and I find the middle grade and YA novels are never quite as bleak as those written for adults.

There are so many dystopian books being published for young readers at the moment that it's impossible to list them all. Here are a few I loved: The Giver / Gathering Blue / Messenger by Lois Lowry, The Ember Series by Jeanne Duprau, The Roar by Emma Clayton, Ship Breaker by Paolo Bacigalupi, Exodus / Zenith by Julie Bertanga, Feed by MT Anderson, Floodland by Marcus Sedgwick, The Forest of Hands and Teeth / The Dead Tossed Waves by Carrie Ryan, How I Live Now by Meg Rosoff, The Hunger Games Trilogy by Suzanne Collins, The Maze Runner Series by James Dashner, The Navigator by Eoin McNamee, Incarceron / Sapphique by Catherine Fisher.




Are owls your favorite animal?



Owls are definitely my favorite bird. They're so ethereal and otherworldly—and eerily beautiful. I read once that in certain societies owls symbolized the ability to see things that are hidden. I love that. I also love their elegance, and the way owls fly in complete silence, swooping down on their prey without warning. I had fun coming up with the idea of silver owls and creating a myth around these fabled, magical creature.





Last year we celebrated The Owl Keeper's birthday along with mine on the same day. What are you celebrating this year and when?



April 2010 was incredibly exciting with the release of The Owl Keeper on the same day as your birthday and your extravagant giveaways for the Cleverly Inked Birthday Phenomenon! This year I'm celebrating the April 5th 2011 release of The Owl Keeper in paperback (Random House Yearling). And there's more to celebrate because I found out that The Owl Keeper has been licensed to Scholastic and will appear in their Fall 2011 book club flyers. I'm thrilled it's going into paperback because it means getting the book into the hands of more young readers.




Now for my random question, Why do we sing "Take Me Out to the Ball Game." when we are already at the game?

I think the line "Take me out to the ball game" has a certain romance to it. When we sing the words we feel a giddy enthusiasm, because the song creates this light-hearted mood. If we were to sing, well, something like "Here I am at the ball game," the words fall flat.

I think it's all about how the wording of the song creates a festive mood.



Birthday Phenomenon Extra Entry Day...
To Gain an additional entry Just leave a comment with you email addy.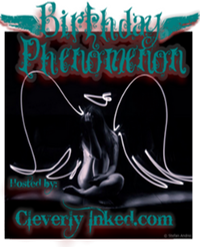 Don't know what Birthday Phenomenon is? CLICK HERE!