This is sorta a once a month Meme to it everyone know what's going on with some of my affiliates and things I have seen through out the web.
So here's what's happening on Cleverly Inked....
I kinda have been slacking, I still have not mailed out the last packages to the winners from the end of March. (So, I had a massive brain fart) I am on track now and will get everything handled ASAP!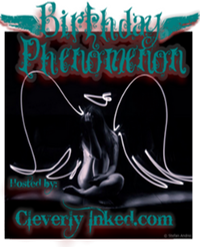 So if you have not heard Birthday Phenomenon has been a major hit..In fact I want to add a little more to the event. So with Juliann Joining in it brings the total of books that are up for grab to 78. AWESOME RIGHT?
Juliann Whicker has kindly sponsored 3 books to Birthday Phenomenon (US ONLY)
House of Slide, Hotblood By Juliann Whicker
He stole a kiss from the wrong girl…
Left without a soul, 17-year-old Dariana Sanders waited to die. There was nothing left to live for, nothing to feel besides the aching cold that never stopped. Her parent's marriage was in shambles, and her brother, the only one who understood, the only one who knew how to make the cold go away, was gone forever. The only thing Dariana knew with absolute certainty was that nothing could possibly be right again. Enter Lewis Axel Nialls. Luckily for her, impossible is right up his alley. He can save her from the forces that wish to destroy her. Of course who's going to save him, from her?
Doesn't this sound AWESOME??
So without further ado...Here are the winners of all the contests I have had since the last announcement.
Winners of the Fool For Books Blog Hop/ Jersey Tomatoes are the Best
as always ♥ Carol
Lexie@BookBug
Melissa CoffeeBooks And Laundry
Winners of March Mayhem Blog hop
Eileen Books R US
Happy Easter Eggstravaganza Blog Hop
LastNerve
I will email all the winners shortly, Unless I hear from you first.
My Lovely Affiliates have some really Nifty things going on Check it out.....

Reagan @ Star Shadow has a fab review of Demon Glass by Rachel Hawkins. She also has Hard Bitten Swag pack giveaway going on. (I owe Reagan a big thanks for helping with blockquoting)


Kirthi @ Pages has a insightful review of Girl in Translation by Jean Kwok. (I seem to owe my affiliates lots of thanks this time. Kirthi was so kind and sent me After the Kiss by Terra Elan McVoy.)


Stormi @ Books, Movies, Reviews! Oh My! had a great review of Kat, Incorrigible by Stephanie Burgis
Lily @ Lily's Bookshelf has a review of Born @ Midnight by C.C. Hunter & The Liar Society by Lisa & Laura Roecker.
Amy J @ My Overstuffed Bookshelf had an amazing IMM and has a review of a oh so steamy book..Bastian by Elizabeth Amber