Today is

Shout-Out Day

. This means I will be giving a shout out to the Authors who have participated in the

Birthday Phenomenon. They have all gone above and beyond to make this event happen. So what better way to thank them, then stopping by their sites!
(taken from her site)
Maria Semple
Maria Semple spent her first two years in Spain where her father had gone to write a play, but instead ended up writing the pilot for the TV series Batman. They packed up for Los Angeles, where Maria mainly remembers being driven around the hills in a Mercedes convertible with the latest Stephen Sondheim playing on 8-track. Wanting to expose the children to a change of seasons, her parents moved the family to Aspen in the early seventies. There, Maria became an expert skier, pot-smoker and delinquent. She was sent away to boarding school at Choate Rosemary Hall and loved every minute of it.
College was at Barnard, where Maria had big plans of becoming a novelist or an English teacher. Those dreams got derailed when she sold a movie script to Twentieth Century Fox just after graduation and moved to LA. She got into TV when her friend Darren Star-- whom she'd met on the ski slopes in Aspen years earlier-- gave her a job on Beverly Hills 90210. Thus began a fifteen-year career in television, writing for good shows like Ellen,Saturday Night Live, Mad About You and Arrested Development. And bad shows nobody needs to know about.
She had a baby and quit television. When it was time to get back to work, she resisted Hollywood and gave novel-writing a try. THIS ONE IS MINE is the result. Writing it was the most fun work experience of her life.
Maria Semple
This One is MINE paperback
(taken from her site)
Chloe Neill
I was born and raised in the South, but now make my home in the Midwest, just close enough to Cadogan House and St. Sophia's to keep an eye on things. When not transcribing Merit's and Lily's adventures, I bake (a lot!), watch entirely too much television, root for my favorite college football team (Go Big Red!), spend time with friends, and play with my dogs, Baxter and Scout.
Chloe Neill
Firespell book (signed)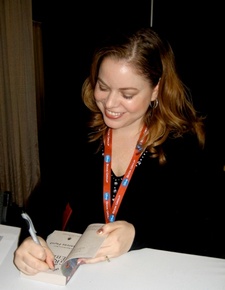 (taken from her site)
Jeaniene Frost
Jeaniene is the New York Times and USA Today bestselling author of the Night Huntress series and the Night Huntress World novels. To date, foreign rights for her novels have sold to thirteen different countries. Jeaniene lives in Florida with her husband Matthew, who long ago accepted that she swears like a sailor, rarely cooks, and always sleeps in on the weekends. Jeaniene and Matthew are the proud parents of Gypsy, their very spoiled dog who believes Jeaniene's only purpose in life is to cater to her. Aside from writing, Jeaniene enjoys reading, poetry, watching movies with her husband, exploring old cemeteries, spelunking and traveling – by car. Airplanes, children, and cookbooks frighten her. Jeaniene is represented by Nancy Yost at Nancy Yost Literary Agency.
Jeaniene Frost
4 Night Huntress Series bookmarks
2 business cards
4 bookplates (signed)
(taken from her site)
Lisa Grace
Lisa Grace lives on the waterfront along the west coast of Florida with her husband and daughter. "When the summers get too hot, we migrate to our cabin in the northern woods of Wisconsin along with our golden retriever and our pet opossum. We leave our manatee, dolphin, and porpoise at home in the gulf, somehow they manage to get along just fine without us," Lisa says.
Lisa Grace
Angel In the Shadows hardback (signed)
Makeup Glamour Brush Set from Mary Kay Cosmetics ($28)
Mary Kay Triple Action Lip Enhancer ($15
)
To gain extra entries in the Birthday Phenomenon visit each Author and leave a comment about what you enjoyed about their site.



(thats right you can get up to 3 additional entries today!)
You gain an entry for each authors site you visit and tell me about what you liked. You choose how many you want to visit!!!


Links to the Authors sites
Lisa Grace
Jeaniene Frost
Maria Semple
Chloe Neill
Dont know what Birthday Phenomenon is? Check it out here