Today is
Shout-Out Day
. This means I will be giving a shout out to the Authors who have participated in the Birthday Phenomenon. They have all gone above and beyond to make this event happen. So what better way to thank them, then stopping by their sites!
To Gain the extra entry you must visit BOTH authors site and tell me what you enjoyed about the sit
es
!
Today's Shout-Out goes to

Heidi R. Kling

&

Erica Hayes

!
Heidi R. Kling
(taken from her site)
Short bio:
Heidi R. Kling likes people, stories and blue things, necessarily in that order. A native Californian, she relocated briefly to NYC where she earned her MFA in Writing for Children from the New School. Heidi resides with her family in Northern California just over the coastal mountains from the sea, where she alternately wears flip-flops and Ugg Boots. And is quite happy.
Heidi R. Kling is Sponsoring 14 Sea bookmarks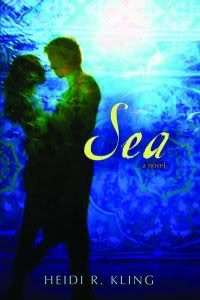 You can visit Heidi by clicking HERE!
Erica Hayes
(taken from her site)
PROFILE

Erica Hayes. That's me. Author of the Shadowfae Chronicles.

I live in the luckiest country in the world. I've done law student, air force officer, editorial assistant and musician. And now I have the best job in the world -- imagining.

In my stories, magic and wonder abounds. But the mortal world is an enchanted place too, if you know how to look. I've laughed atop the Great Wall, sported with the gargoyles at Notre Dame and gazed up awestruck at the Great Pyramid. Let me share that sense of wonder with you.

Just because you don't see it right away doesn't mean it's not there. So laugh under the stars. Dance in the rain. Howl at the moon. You never know who's watching.
Erica Hayes is Sponsoring
Shadowglass; The Shadowfae Chronicles paperback
Shadowglass bookmark
You can visit Erica by clicking HERE!
Here are a few other books from the Series


And the next in the series which will release September 2010


As I was saying before to gain an extra entry please stop by BOTH authors site and tell me here what you loved about them!
If you have not entered in the
Birthday Phenomenon
and don't know what I am talking about click HERE!