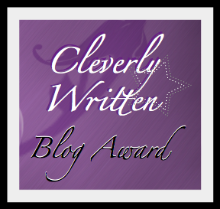 I am awarding this to a couple of blogs I just enjoy to visit that I feel the content it so clever.
CONGRATULATIONS TO:
&
1)Accept award and display in/on your blog.
2)Be sure to link the person's blog who gave you this award on your blog.
3)Contact 2 other worthy bloggers and award them with this Cleverly Written Blog Award.
4) If you don't choose to pass this along there is nothing wrong with that, just use it as you wish. This is supposed to be fun so ENJOY! Lets keep this blog award going.