Rockin Review Thursday is one of my favorite reviews written by a fellow blogger. With a few questions answered by the blogger.
This week it's Kate from
http://www.theneverendingshelf.com
I absolutely loved her review for Hush Hush written by Becca Fitzpatrick.
Author: Becca Fitzpatrick
Release Date: October 13, 2009
Summary from Goodreads:


For Nora Grey, romance was not part of the plan. She's never been particularly attracted to the boys at her school, no matter how much her best friend, Vee, pushes them at her. Not until Patch came along. With his easy smile and eyes that seem to see inside her, Nora is drawn to him against her better judgment.
But after a series of terrifying encounters, Nora's not sure who to trust. Patch seems to be everywhere she is, and to know more about her than her closest friends. She can't decide whether she should fall into his arms or run and hide. And when she tries to seek some answers, she finds herself near a truth that is way more unsettling than anything Patch makes her feel.
For Nora is right in the middle of an ancient battle between the immortal and those that have fallen - and, when it comes to choosing sides, the wrong choice will cost her life.
How did you make the choice to read Hush, Hush?
I am always looking for something new/different to read. And while I enjoy the current paranormal trend of vampires and werewolves, lately I have found myself craving topics that have not been too overexposed. So when I came across
Hush, Hush
, I instantly knew that this was a book for me. The topic was incredibly creative, and it features one of the most amazing covers I have ever seen. Oh, and let's not forget the book trailer. One word: amazing.
Could you personally relate to the book? If so how?
While it has been a few years since I was in high school, I could definitely relate to what Nora was feeling. To be honest, Patch (minus the "evil" angel part) actually reminds me of my husband. He was this really cute transfer student, and I was instantly drawn to him despite his annoying attitude. He would tease and pick on me very similar to how Patch treats Nora. It actually was quite amusing to read most of their interactions because it almost felt like I was reading our first few interactions in a novel. Overall, I really think that most readers should be able to relate to something within this lovely novel. There is just so much to enjoy.
Can you remember what was the first book you have ever read? If so what book was it?
Hmm.. I do not remember the name of the first book that I read, but I am pretty sure it had something to do with Disney. Growing up, I loved anything Disney. I loved the
fairy tales
especially. And I am also happy to say that my love these tales still exist today
.
How did you get into book blogging?
To be honest, I was going through a
hard time in my life
and needed an escape. One day while playing on the internet, I came across a book blog and was instantly captivated. Until that moment, I honestly did not know that sites like this existed. I saw this amazing community that book bloggers had, and decided that I wanted to be apart of that. So I did a bunch of research on what a blog consisted of and thought to myself, "I can do this." A few days later, I started

The Neverending Shelf, and have not looked back since

.
Thank you Kate over at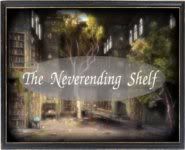 We appreciate your time and your Rockin Review!
Take the time to check out her blog. It's a winner!