I am heading to the book stores today. I am hoping to come back with a treasure. Not really sure what book to read now. My to-read book stack has dwindled down. I was looking in to reading Shadowland or Ironside.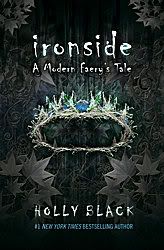 Ironside:
In the realm of Faerie, the time has come for Roiben's coronation. Uneasy in the midst of the malevolent Unseelie Court, pixie Kaye is sure of only one thing -- her love for Roiben. But when Kaye, drunk on faerie wine, declares herself to Roiben, he sends her on a seemingly impossible quest. Now Kaye can't see or speak to Roiben unless she can find the one thing she knows doesn't exist: a faerie who can tell a lie.

Miserable and convinced she belongs nowhere, Kaye decides to tell her mother the truth -- that she is a changeling left in place of the human daughter stolen long ago. Her mother's shock and horror sends Kaye back to the world of Faerie to find her human counterpart and return her to Ironside. But once back in the faerie courts, Kaye finds herself a pawn in the games of Silarial, queen of the Seelie Court. Silarial wants Roiben's throne, and she will use Kaye, and any means necessary, to get it. In this game of wits and weapons, can a pixie outplay a queen?

Holly Black spins a seductive tale at once achingly real and chillingly enchanted, set in a dangerous world where pleasure mingles with pain and nothing is exactly as it appears.

*************************************************************************************

Holly Black is an exciting writer. I have read the previous 2 of the series, Tithe and Valiant. They were very good. I was left wondering were the 2 books will meet in the book. I was also ecstatic that I didnt know what was going to happen next in the book (Ironside). These are a nice break from all the vampire themed books.
Shadowland:
Ever and Damen have traveled through countless past lives—and fought off the world's darkest enemies—so they could be together forever. But just when their long-awaited destiny is finally within reach, a powerful curse falls upon Damen…one that could destroy everything. Now a single touch of their hands or a soft brush of their lips could mean sudden death—plunging Damen into the Shadowland. Desperate to break the curse and save Damen, Ever immerses herself in magick—and gets help from an unexpected source…a surfer named Jude.
Although she and Jude have only just met, he feels startlingly familiar. Despite her fierce loyalty to Damen, Ever is drawn to Jude, a green-eyed golden boy with magical talents and a mysterious past. She's always believed Damen to be her soulmate and one true love—and she still believes it to be true. But as Damen pulls away to save them, Ever's connection with Jude grows stronger—and tests her love for Damen like never before…
*************************************************************************************************
Reading Alyson Noels books is like cutting butter with a knife they are quick and easy and who couldn't use a second slice of butter? The previous books make you fall in love with all the characters. I am always guessing how the book will end and I am always w

rong.
~~~~~~~~~~~~~~~~~~~~~~~~~~~~~~~~~~~~~~~~~~~~~~~~~~~~~~~~~~~~~
~